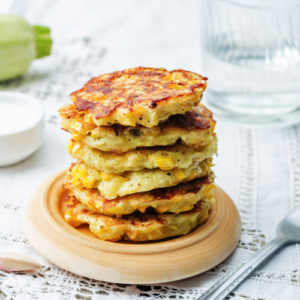 Corn Fritters
These corn fritters are a delicious way to use up your bounty of summer corn. They make a tasty side dish that will freeze well if they aren't gobbled up immediately. Click on linked ingredients to shop or browse all of our products.
Browse Our Products
Print
Pin
Instructions
Place corn kernels, flour, baking powder, salt and pepper in a large bowl. Stir to combine.

Add the eggs and milk. Stir until a thick batter forms. Add the garlic, herbs, and spices and stir gently to combine.

Heat a 1/2 inch of lard in a deep pan over medium high heat. Place 2 tablespoon size mounds of the fritter mixture in the pan, flatten them.

Cook fritters for 3 minutes per side, until golden brown and crispy. Repeat until all batter is used.

In a small bowl mix all aioli ingredients together. Place a 1/2 tsp scoop on each fritter or serve on the side.