Mossycup Farms' Coffee Rub brings this prime rib to a whole new level of flavor!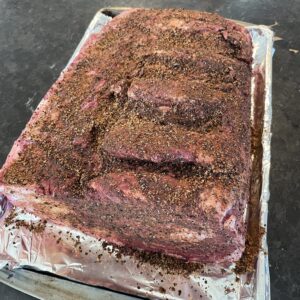 Instructions
Set out prime rib and allow to come to room temperature.

Preheat oven or smoker to 350 and line a rimmed baking sheet with foil or parchment paper.

Lay prime rib on baking sheet with fat cap down and uncovered, and generously rub all surfaces with coffee rub.

Roast for one hour at 350.

Reduce heat to 250 until the internal temperature reaches 115 at the thickest part of the prime rib. (Monitor internal temperature often to prevent over cooking)

Cover and allow to rest for 1 hour in a cooler or oven that is turned off with the door shut (can shorten this for a smaller roast to a half hour).

Internal temperature at thickest part should reach 125 after resting so the center will be medium rare and the ends medium to well done.