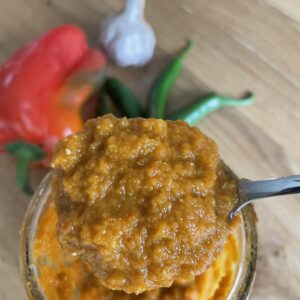 Ingredients
2.5

cups

Water

We use well water but filtered or distilled also works

3

tsp

Salt

Sea salt is best

4 or 5

Hot Peppers

Serrano, jalapeno or any hot pepper will work

1

Sweet Pepper

1

Carrot
Instructions
Add water and salt to a pan and stir over medium heat until salt has dissolved. Allow to cool while prepping other ingredients.

Cut peppers, carrot, onion and garlic into chunks and add to 1 quart mason jar filling to 2" below top of jar. Ratio of hot to sweet peppers can be adjusted to make the sauce hotter or milder.

Fill the jar with salt water so that all of the peppers and vegetables are covered.

We use an air lock or pickle pipe which allows gasses to escape but doesn't allow air in. You can also cover the top of the jar with plastic wrap filled with water which acts as an air lock and to weigh down the vegetables and keep them below the surface of the water. Make the piece of plastic wrap oversized so that it can be pushed down into the jar so it's touching the surface of the vegetables and saltwater and wrapped around the sides of the jar. Then add water over the plastic wrap to fill the jar and refill as needed if evaporation occurs. You can loosely tie or rubber band the plastic wrap in place if desired.

Allow the jar to sit at room temperature out of direct sunlight for 7 to 10 days. If the room is warmer fermentation will happen quickly and if cool it may take longer. You'll know that fermentation is happening as bubbles appear in the jar. It's important that the gasses created during fermentation are allowed to escape so be sure that if you're using plastic wrap it isn't secured too tightly around the jar.

After 7 to 10 days, drain the vegetables and reserve the liquid. Put the vegetables in a blender and add enough of the liquid to blend until smooth. Store in air tight container in refrigerator. Extra liquid can be saved and used as a starter for your next batch.