We recently tried a recipe from the What's Gaby Cooking blog that was so good, we had to not only share it, but share some tip & tricks of our own. And surprise, surprise: some of your Mossycup Farms staples will help you achieve this perfect homemade orange chicken recipe. (Hint: it's lard!) It's so good, you may ditch the restaurant alternative altogether.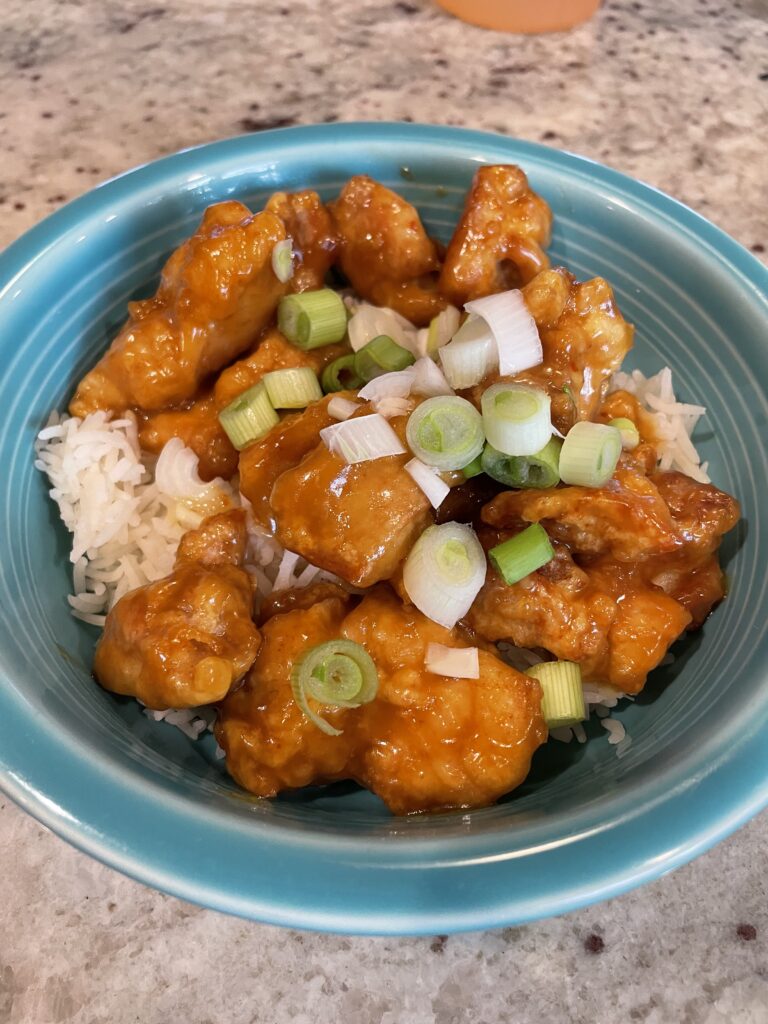 For the Chicken
3 tablespoons cornstarch
3 egg whites
2 1/2 lbs boneless skinless chicken thighs, cut into bite-sized pieces and patted totally dry
For the Sauce
1/2 cup Florida's Natural No Pulp Orange Juice
1 tablespoon soy sauce
1 tablespoon brown sugar
1 tablespoon rice wine vinegar
1/4 teaspoon sesame oil
Kosher salt and crushed red pepper flakes
2 cloves garlic, finely chopped
1 teaspoon cornstarch
vegetable oil for frying LARD for frying
green onion for garnish (or chives!)
For the Chicken
In a large bowl, whisk together the cornstarch and egg whites with a fork until almost frothy, about 1 minute
Add the patted dry chicken to the mixture and allow to sit for 5 to 10 minutes
For the Sauce
Meanwhile, put the Florida's Natural No Pulp Orange Juice, soy sauce, sugar, vinegar, sesame oil, salt, crushed red pepper and garlic in a small nonstick skillet and whisk. Heat until bubbling and starting to thicken, about 5 minutes.
Whisk together the cornstarch and 1/4 cup water in a small bowl and add 1 to 2 tablespoons of the cornstarch slurry to the sauce. Mix in and thicken for 1 minute.
Heat about 2-3 inches of lard in a large heavy-bottomed Dutch oven until a deep-fry thermometer inserted in the oil registers 350 degrees F. In batches, carefully drop the chicken into the oil (I drop 1-2 pieces in at a time and move it around for a second before adding more pieces), flipping gently, until golden, 3 to 4 minutes. Be very careful not to overcrowd the pan. Let the pieces drain on a plate lined with paper towels for 2 to 3 minutes. Repeat the process with the remaining batches. Once all the batches have their initial fry, drop them back into the lard for 1 minute to really solidify the coating. Toss the chicken in the sauce and serve with the green onion garnish
As you can see above, we've made a slight edit to the recipe that we think makes this recipe even more delicious: frying in lard. This is a great example of how you can swap lard into recipes you already use and love. Lard is a stable and healthy option for high heat cooking and frying. Nothing, we repeat, nothing crisps quite like lard, and it makes this orange chicken recipe extra special and delicious.
When you're done frying, you can save the lard and use it again for your next meal requiring frying (note: this is only recommended when frying things without a lot of flavor like chicken or donuts, etc. Things like fish will leave a taste.) Strain out anything left from frying before you reuse; we like these fine strainers if you need a good recommendation.
If you don't have any upcoming frying meals to save the lard for, you can grease your pans, or if you have chickens or birds like we do, you can add some to their food for a nutritious boost.
Let us know if you try this recipe!