We understand that ordering a custom processed whole or half hog share can be confusing, especially if you've never done it before, and we'd like to make it as simple as possible.
Why should I buy a custom processed share?
Custom processed shares are the most economical way to buy farm fresh pork.  You get a variety of pork cuts, including the less common cuts you often can't find in stores, with the convenience of a constant supply on hand.  You'll know where your food came from and we'll be here to help you through the process.   Contact Us with any questions you have!
How much do I get when I buy a custom processed share?
A whole hog share yields approximately 115 pounds of cuts plus 9 to 10 pounds of leaf lard, 10 to 12 pounds of organs & bones and 15 to 20 pounds of back fat.  Your actual cut weight will vary based on the cut instructions given to the locker.  Information on giving cut instructions can be found further down.
This image shows what you can expect to take home with a half hog share.  Imagine twice as much for a whole hog share. 🙂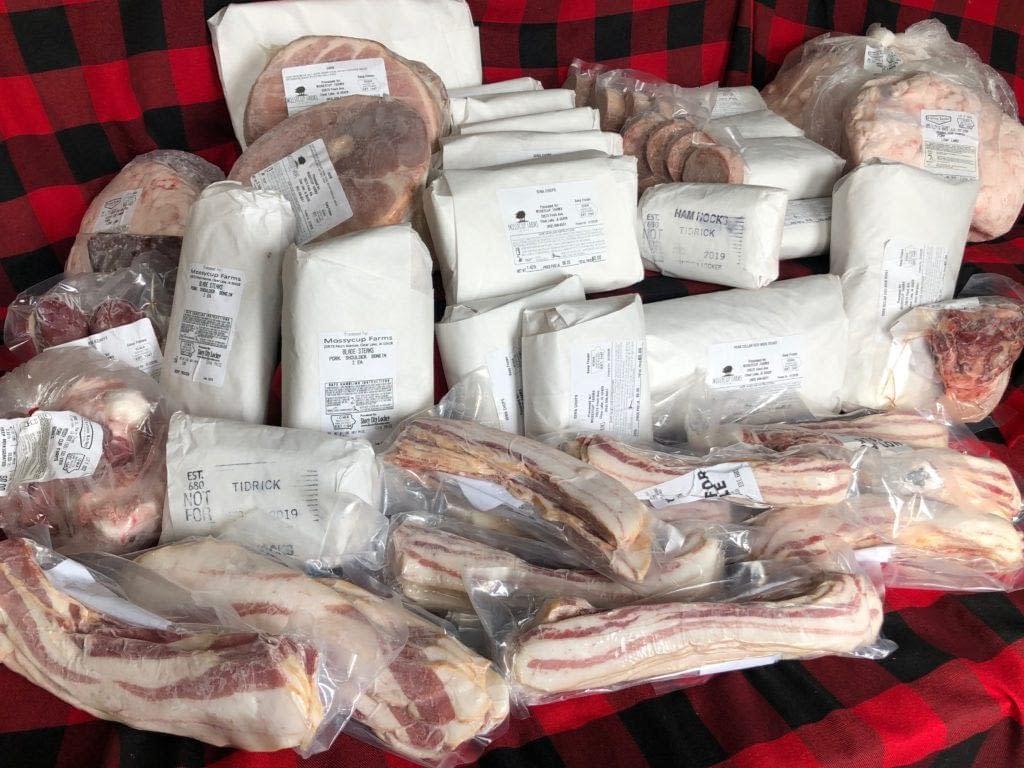 How much does it cost?
You pay the farm $3.25 per pound based on hanging weight for the hog.  The average hanging weight (weight of the hog after the internal organs, hide, head, and feet have been removed) on a whole hog is 190 pounds. You pay the locker directly for the processing, and processing costs fall between $250 and $325 depending on selections made.  Curing & smoking, seasoned sausage and boneless cuts have additional fees.  Your total cost for a whole hog would be approximately 190 x $3.25 = $617.50 for the animal, plus processing of $250 to $325.
Which cuts should I request?
This is totally up to you but we do have some recommendations if you're not sure.  To print these recommendations CLICK HERE.
Keep scrolling a bit further for our "Cheat Sheet"
Follow this link for a diagram of the different cuts with explanations and cooking tips.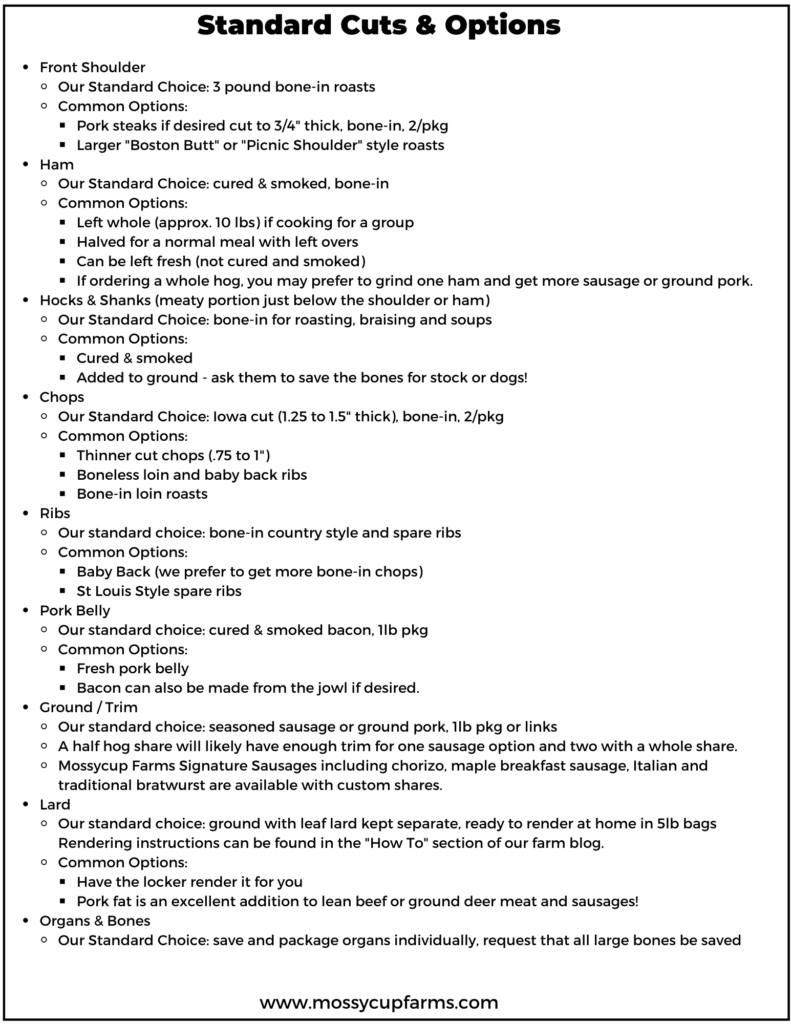 Want it simplified even more?  We're often asked exactly what to order and we're happy to help!  The list below is what I would give for cut instructions if ordering for our family.  You can literally read this to the lovely folks at the locker if you'd like!  To print this "Cheat Sheet" CLICK HERE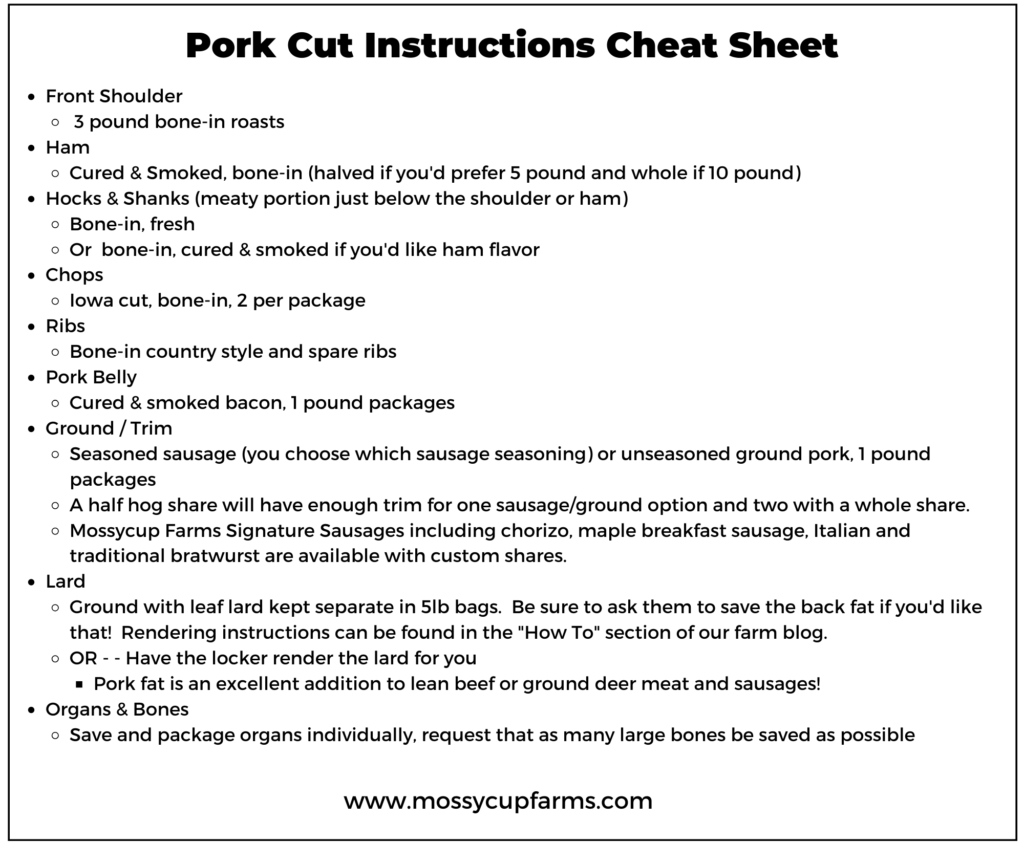 What do I do if I'm ready to reserve my share?
1) Visit our Shop Page and choose a deposit option for the month you'd like your share processed.
2) We'll send you a confirmation email with a processing date and details on how to submit your cut instructions.
3) We'll send you another email the week of processing letting you know that it's time to call the locker and tell them how you'd like your pork cut, packaged, and seasoned.
4) The locker will contact you when your pork is ready to pick up and will have an invoice ready for you to pay directly to them for processing. We will email you a separate invoice for the cost of the animal based on the actual hanging weight.
5) Pick up your pork and bring it home to enjoy!
Another option to consider is our Half Hog Customizable Bundle.  This bundle is equivalent to a half hog share but is ideal for those who would prefer to choose from our in stock, state inspected cut options and let us put it together for you.